...That Blake is a new face of the new Gucci fragrance, Gucci Premiere.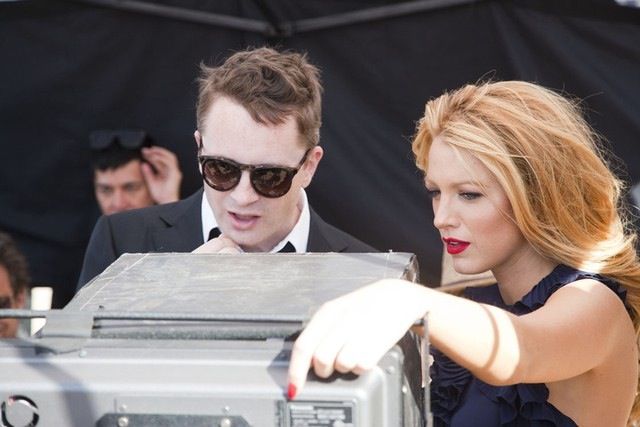 *Blake and Nicolas Winding Refn at the video shoot

Curtain Raiser: Gucci Première Set to Launch
Gucci is gearing up to launch a new fragrance infused with Old Hollywood charm and fronted by Blake Lively. Inspired by the couture line of the same name that made its debut in 2010 at the Cannes Film Festival, the Gucci Première eau de parfum is designed to evoke all the glitz and glamour associated with that event. In a telephone interview, Gucci creative director Frida Giannini said the perfume is for a beautiful, successful woman who is "living her moment, whether it's on the red carpet or at a private dinner." "We have three big pillars that we want to support and make as long-lasting classics in the market," added Luigi Feola, vice president of Procter & Gamble Prestige, referring to Flora, Guilty and Gucci by Gucci. "Première will be the female counterpart to the male Gucci by Gucci," he explained, noting that the original women's Gucci by Gucci — Giannini's first fragrance for the Italian fashion house, which some considered quite masculine — has become more of a niche perfume.
Lively, whose career took off when she landed a starring role on the TV series "Gossip Girl," has garnered considerable attention within the fashion industry. Giannini said she chose the actress as the face of Gucci Première partly "because she is a girl of extraordinary beauty and she's a girl who loves fashion. She has great taste in clothes." But it was Lively's attitude that won over the designer, who said: "Although she's young, she's also very determined, and I liked this spirit. She knows how to be a diva in the right sense, with an aspirational glamour." Lively praised the Gucci brand's balance between "the feminine and masculine powers of a woman," and noted this is her first fragrance campaign. "Gucci is a staple. It is a brand I have always looked up to because to me it represents strength," she said. "In their designs, in their images, in what they stand for philanthropically, and especially in their fragrance. I couldn't be more proud to be working with Gucci and its heart, Frida." Gucci Première is scheduled to arrive first in the U.K. in late July, with exclusives at Harrods and Selfridges, and the worldwide launch will kick off in September with the exception of China, where the fragrance will arrive in 2013. The ad campaign will also make its debut in the U.K. before rolling out internationally. Photographers Mert Alas and Marcus Piggott shot the ad campaign in February at the Sheats Goldstein Residence in Los Angeles, selected for its all-encompassing view of the city. The black-and-white image shows Lively in a backless dress covered in sequins, golden hair styled for another era, gazing at the city lights as her reflection bounces off a glass windowpane. "All these ingredients rendered the idea of this cinematic, seductive attitude," noted Giannini. Feola added the print campaign draws particular emphasis to the bottle as an "unmistakably Gucci" emblem. Film director Nicolas Winding Refn, who said he "relished" the new challenge of working for Gucci, shot the TV commercial at the same location, with additional scenes in the Mojave Desert, portraying Lively as a leading lady preparing for a big premiere. Ruini e Mariotti, longtime Gucci partners, handled art direction for the ad and commercial.
And the good news doesn't end there:
The short film debuts at a special event during the Venice Film Festival on September 1, at 8pm CET!


We all know the love affair between Blake and Frida started a while back as evidenced in this interview with the WSJ:
I have so many icons, but if I had to name you just three:
Kate Moss. I can't wait for a new face that represents what Kate means to the business. But for now, there is only Kate with this uniqueness of style and personality. She is incredible.
Jackie Kennedy. One of the most chic and elegant women ever. She is in our archive so much that I feel as if I have had the chance to meet her. I love how she mixed her look—the nonchalance of the trench and the headscarf. Such effortless elegance.
Blake Lively. There are lots of new actresses out there but—how can I put this?—many of them look the same. Blake is really the only one who has this sophisticated newness and attitude.

Sources: Twitter; WWD via Tranquility on Fan Forum; Red Pages; WSJ.com